Double the investments made by your community
Launch│Rally│ Match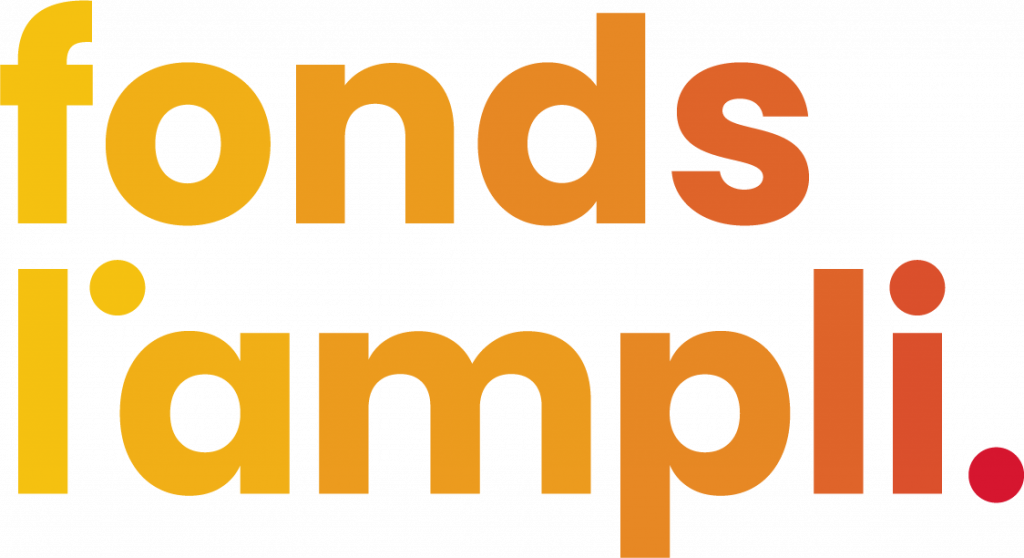 With financial support from the Lucie and André Chagnon Foundation
Initiated and managed in collaboration with the Chantier de l'économie sociale
Maximum of $100,000 per enterprise*
Minimum of $10,000
The Fonds l'ampli is a financing tool meant to accompany a community bond campaign or a social or preferred share campaign.
Its purpose is to encourage social economy enterprises and community organizations to use these types of participatory capital raising by matching investments made by the community.
With the goal of prioritizing repayment to community investors, the RISQ's involvement would be converted into a term loan with the same repayment date as the preferred shares or community bonds.
Advantages
Amplifies investments made by the community
Improves the organization's capitalization
Solidifies community ties within collective projects
Allows for community investors to be paid back first
Extends the repayment horizon thanks to the conversion into a term loan
*As it is a pilot project, the exact parameters of the Fonds l'ampli may vary.
OBJECTIVES
Solidify enterprises' capitalization
Foster community ties within Quebec's social economy enterprises
Support the emergence of new social economy projects
Support existing social economy enterprises in their development
CHARACTERISTICS
Financing tool to accompany a community bond campaign or social or preferred share campaign
Dollar-for-dollar matching up to maximum authorized investment total
Maximum of $100,000
Without guarantee
Matching loan

Maximum term of 5 years
Capital payment moratorium during the matching period
Fixed interest rate for the matching period of 4% prior to repayment date
Monthly interest payments throughout the matching period

Conversion into a term loan

Conversion following the matching period
Investment term from 2 to 5 years
Interest rate between 5% and 8%
Fixed monthly payments (capital and interest) throughout the loan term
Possibility of a capital moratorium

 Possibility of advance capital repayment with no penalty at any time with at least 90 days' written notice.
Commitment fee: 1.5% of the authorized amount
An application fee of $200 is deducted from the commitment fee
Diagram of Fonds l'ampli Involvement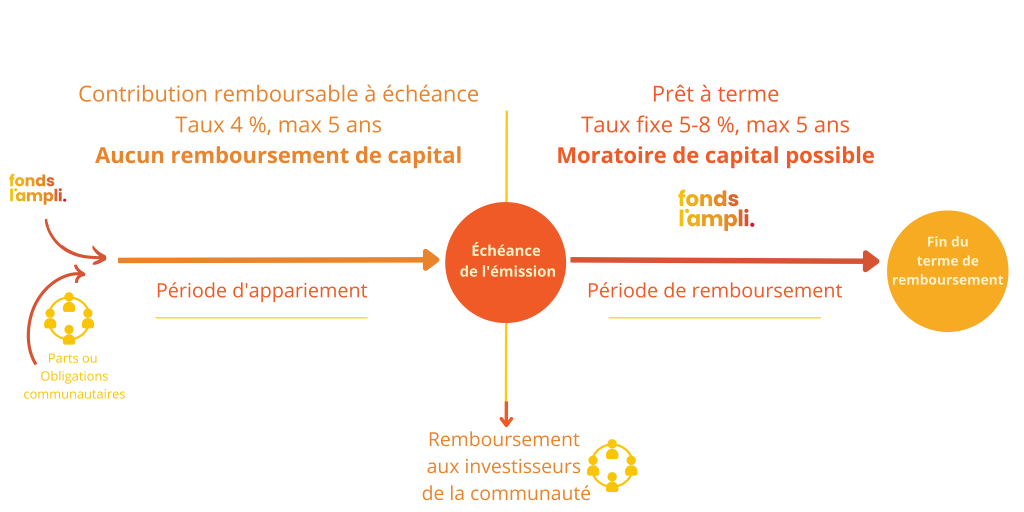 ELIGIBLE PROJECTS
Enterprises that wish to organize a community bond campaign or social or preferred share campaign, including those in the start-up, development, expansion, consolidation or recovery phase
Enterprises receiving support from the Ampli support ecosystem. For more details, visit the Ampli website – Participatory Finance Resources
Campaigns carried out up to 6 months prior to requesting RISQ financing
Matching only for the portion of community bonds or shares purchased by community actors (individuals or organizations), members or non-members.
ELIGIBLE EXPENSES
Working capital
Expenses related to development, including

Professional fees
Expert fees
Other fees incurred for consulting or specialist services (e.g., to conduct studies)

Capital expenditures, such as

Land
Building(s)
Equipment and machinery
Vehicles
Incorporation fees
Stock expenses (eligible if accompanied by a value estimate from a recognized independent expert)
Any other expenditure of the same nature

Technology, software or software package or patent acquisitions, or any other expenditure of the same nature.
INELIGIBLE EXPENSES
Shares or bonds purchased by institutional investors (public sector, financial institutions or other investment funds)
Expenses intrinsically related to organizing a traditional capital raising campaign;
Debt, share or bond refinancing.
Exclusions determined by the RISQ as listed on the Eligibility page
SUBMIT AN APPLICATION
STEPS
Contact our team to determine whether your project is eligible.
Send us your DOCUMENTS required to open your account, including the application and payment of the $200 application fee
Your application is studied by a RISQ financial analyst / Discussions with project organizer and support team
The financial analyst produces a report
Your application is presented to the investment committee. Following the committee's decision, its members will make a recommendation to the Board of Directors whether the application should be accepted or denied, or, occasionally, amended.
If accepted, investment offer signed by the enterprise
Validation that all conditions listed in the offer have been fulfilled and loan disbursement
Oversight from the RISQ until full repayment of the loan.
DOCUMENTS
For a matching funds application, social economy enterprises must:
 Fill out and send in the signed form
Pay the application fee (if applicable)
Provide all documentation needed for application evaluation (see list below)

Community bond or preferred share certificates for matching. For community bonds, certificates must include a clause informing investors of the risks associated with this investment (as per article 38 of the Cooperatives Act of Quebec).
Legal notice of the campaign's conformity with the exceptions from the Authorité des marchés financiers prospectus, issued by a lawyer and verified by the Chantier de l'économie sociale.
Letter from a certified Ampli support network member
Copy of letters patent (NPO) or Charter (co-op)
Copy of general by-laws (including borrowing by-law) or internal governance by-laws.

Copy of the most recent annual report
Copy of the past two years' financial statements
Recent interim financial statements (including accounts receivable and payable reports)
Financial statements from affiliated enterprises (if applicable)
Operating budget and financial projections
Quotes (if applicable)
Copy of confirmations from financial partners (if applicable)
 Other relevant documents: market research study, letters of support, etc.
Additional documents may be required to complete the evaluation of your loan application.
Our other financial products
Find the right financing according to your stage