Photo credit : Jean-Michael Seminaro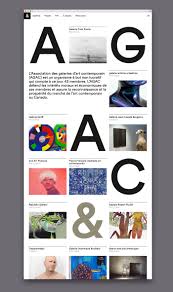 Association des galeries d'art contemporain (AGAC)
Presentation of the enterprise
The Association des galeries d'art contemporain (AGAC) is a not-for-profit organization created in 1985 whose principal mission is to ensure the recognition and prosperity of the contemporary art market in Canada. It exhibits and promotes artistic creations nation-wide to raise public awareness of the visual arts and stimulate the art market; in so doing, it is committed to ensuring the sector's best practices and serving as a resource for its members, 40 of the country's leading contemporary art galleries.
Social impact 
AGAC disseminates and promotes artistic production in Canada to a vast audience through major events organized in Québec, Canada, and abroad, such as the contemporary art exhibition, The Papier Fair. The 20th edition of this event will take place in 2017. It is the only salon of works on paper in Canada. This is an affordable medium, accessible to all audiences. It is the largest event of this kind in Québec. Members of the public can purchase a work of art and give the artist a financial and moral boost. Over $1 million in art sales were made in the 2016 edition—a major contribution to the visual arts economy in this province.
"The support we receive from the réseau d'investissement social du québec is valuable because it has enabled the association, which has grown rapidly in recent years, to pursue its activities, making a tangible contribution to the canadian arts scene and supporting the contemporary visual arts.
Christine Blais, executive director
Awards and distinctions
The Papier Fair, which aims to make art accessible to as wide an audience as possible, was ranked among the top 100 events in Canada in 2016, by the US magazine BizBash.
In 2015, the same art fair—the largest in Québec and the only one dedicated to artwork on paper—was honoured at the Best of Canada Design Awards ('Exhibit' category) by the magazine Canadian Interiors for the design created by Architecturama.
Feature Contemporary Art Fair, held in Toronto in 2014 and 2015, had the mandate of presenting cutting-edge and challenging contemporary art. Both editions were recognized by the Grafika contest for their audacious visual identities, created by Bureau Principal.
AGAC's website was also a winner of the Grafika contest for the revamping of its graphic identity to highlight the Association's members.
Stage of development    consolidation
Reason for investment    working capital
No. Of jobs created
maintained 6 full-time, internship 1