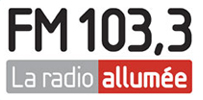 Radio communautaire de la Rive-Sud inc.
Technical assistance and capitalization loans
Presentation of the enterprise
Fm 103.3 is the only electronic media producing daily news on the south shore of the St. Lawrence, in addition to the largest french-language music selection in Québec. The cultural and social content and entertaining programming selection reflects the image of the south shore community.
Social impact
The mission of the Fm 103.3 radio station is to contribute to the emerging identity of the south shore and foster its expression. As a radio station deeply rooted in its community, Fm 103.3 also contributes to its well-being by working closely with others on its cultural, social, and economic development.
 

"RISQ has enabled our enterprise to invest in broadcasting equipment and develop new digital products for the announcers. This financial support was crucial to maintaining and improving the broadcasting service we provide to our audience."
Éric Tétreault, executive director
Stage of development  expansion
Reason for investment  equipment upgrade and market study
No. Of jobs created  maintained : 9 full-time, 4 part-time, and 2 work integration positions
Technical assistance and capitalization loans
1999, 2006, 2012, 2013 et 2016